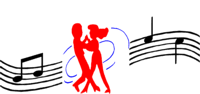 Did you know that Square Dancing can be done to all forms of music? Destiny's Child, the Beatles, Hip Hop and, yes, country too. Come try America's Folk Dance set to music as diverse as our country.
This Club is Designed for Youth, Teens and Pre-Teens (ages 8 and up)
(parents welcome with their kids)
Caller: Ruth Riegelhaupt-Herzig
For information on square dancing for families with younger kids (age 5 and up) visit Cloverleaf Critters.